RESIDENTIAL ROOFING
"A satisfied customer is the best business strategy of all."
For all of your home improvement needs. You name it, we do it!
We handle new roof installation in Tennessee large or small it does not matter. We're here to provide quality and value for your new residential roofing project.
RESIDENTIAL REPAIRS
We can handle all of your residential roof repairs including asphalt shingles, tiles and any other type of roofing materials you have on your home or building.
PROFESSIONAL FROM START TO FINISH
When it comes to service, we have got you covered! From the first phone call all the way through the completion of the job. We care what you think.
Dotson's Home Improvements offers a comprehensive list of roofing contractor services for residential properties including homeowner associations and property management companies. We are happy to assist with upcoming residential roofing projects of any size. Our residential roofing services can accommodate large projects like whole roof replacements, and are also available for smaller roof repair orders and emergency repair situations. Call us today to learn more about our residential services and how we can help solve your roofing problems.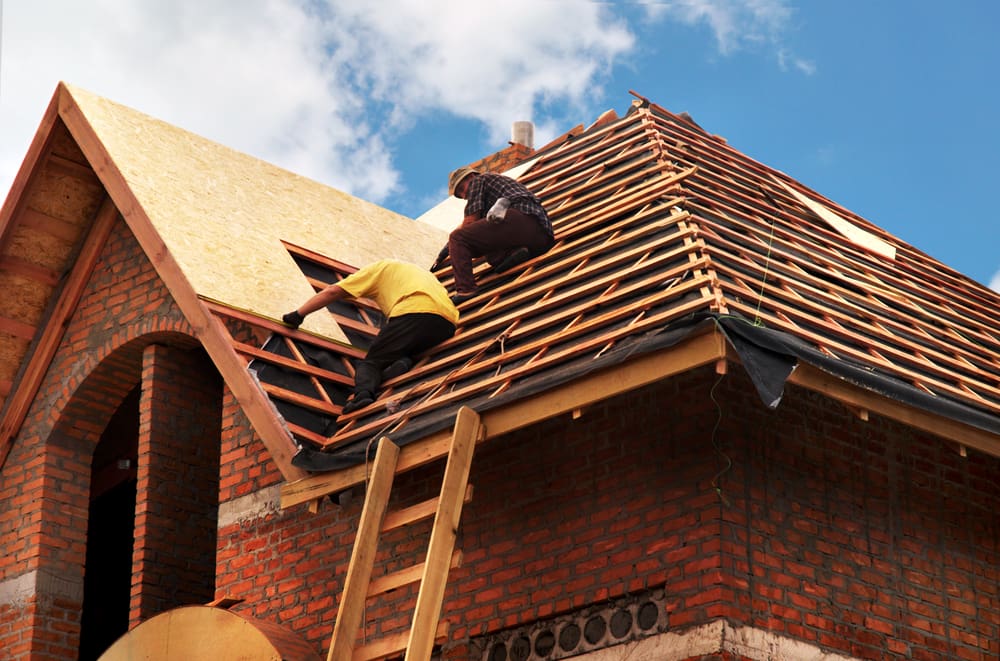 RESIDENTIAL ROOFING SERVICES FOR INDIVIDUAL HOMEOWNERS
As a professional residential roofing repair and installation contractor, we offer a variety of residential roofing services for Spring Hill TN and surrounding areas homeowners. Our extensive residential roofing material options and skilled team of roofing professionals ensures that every home can be both beautiful and functional for many years to come. We approach every roofing project with the utmost care and dedication to quality craftsmanship and an exceptional customer experience. Dotson's Home Improvements is also committed to the environment and removes and recycles all used roofing materials whenever possible.
RESIDENTIAL ROOFING INSTALLATION FOR TENNESSEE HOMEOWNERS
Dotson's Home Improvements is a family owned business dedicated to providing roofing services to other families and homeowners throughout Maury and Williamson & surrounding counties. The installation process can be somewhat of an intrusive process for homeowners, and our expert contractors make the job site as clean and comfortable as possible for the residents. Throughout the duration of the project, roofing specialists will communicate with customers to ensure satisfaction with the status of the roof installation, the craftsmanship, and the overall roofing project. Because we have a variety of different roofing materials, such as asphalt shingles, tile, slate, and cool roofing options, there is sure to be an appealing roofing choice for every home style and personal preference. In addition to residential roofing services, our roofing professionals are also able to install roof ventilation and attic insulation systems to maintain an appropriate temperature on and under the new roofing system.
RESIDENTIAL ROOFING REPAIR
The average lifespan of a roof in temperate climates is about twenty years. Even with professional installation and routine maintenance, most roofing systems require the occasional repair. A roofing inspection can ensure that even minor problems are detected early so that timely repairs can prevent more costly expenses in the future. New homeowners may not know how old their roof is or what condition it's in at any given time. A thorough inspection by an experienced roofing specialist can provide peace of mind or help homeowners identify and plan for areas of concern. Dotson's Home Improvements is proactive and always have a truck full of supplies such as tarps, tools, and other repair materials during the rainy season. Leaking roofs, broken tiles, and missing shingles can be a thing of the past. Professional roof repair experts are able to handle any roofing problem that a home may encounter. They are also happy to provide a written estimate for all repairs and answer any questions that may arise.
OUR RESIDENTIAL ROOFING SERVICES 100% SATISFACTION PROMISE
Dotson's Home Improvements offers assistance with any type of roofing question, problem, or concern. Our expert contractors offer homeowners help with selecting the perfect roofing material and other products that will extend the life of the roof. Our residential roofing services are available to homeowners throughout the Tennessee region. Friendly and courteous staff make it easy to choose the best options and styles to match the home decor and budget constraints. Consistently making each customer experience unique and pleasant is what sets Dotson's Home Improvements apart from other roofing contractors.
MANY ROOFING MATERIAL OPTIONS
Dotson's Home Improvements offers several different types of roofing materials for homeowners to choose from. All types of roofing material also come in a wide variety of colors and styles, including cool roofing options, to perfectly compliment any home. Experienced roofers and contractors have the ability to install, repair, and maintain any type of residential roof. Only the best products and materials are used when installing a new roofing system. Below are a few of the roofing types we install, repair, and maintain as part of the residential roofing contractor services we offer Tennessee homeowners:
Asphalt shingles

Concrete tile

Clay tile

Synthetic shakes

Natural stone slate

Flat roof materials
Message Us
Get In touch below. Ask Any Question or Start a Free Quote
Open Hours
Monday – Friday 7am – 5pm, Emergency Calls Available